Why rock sliders are important when off-roading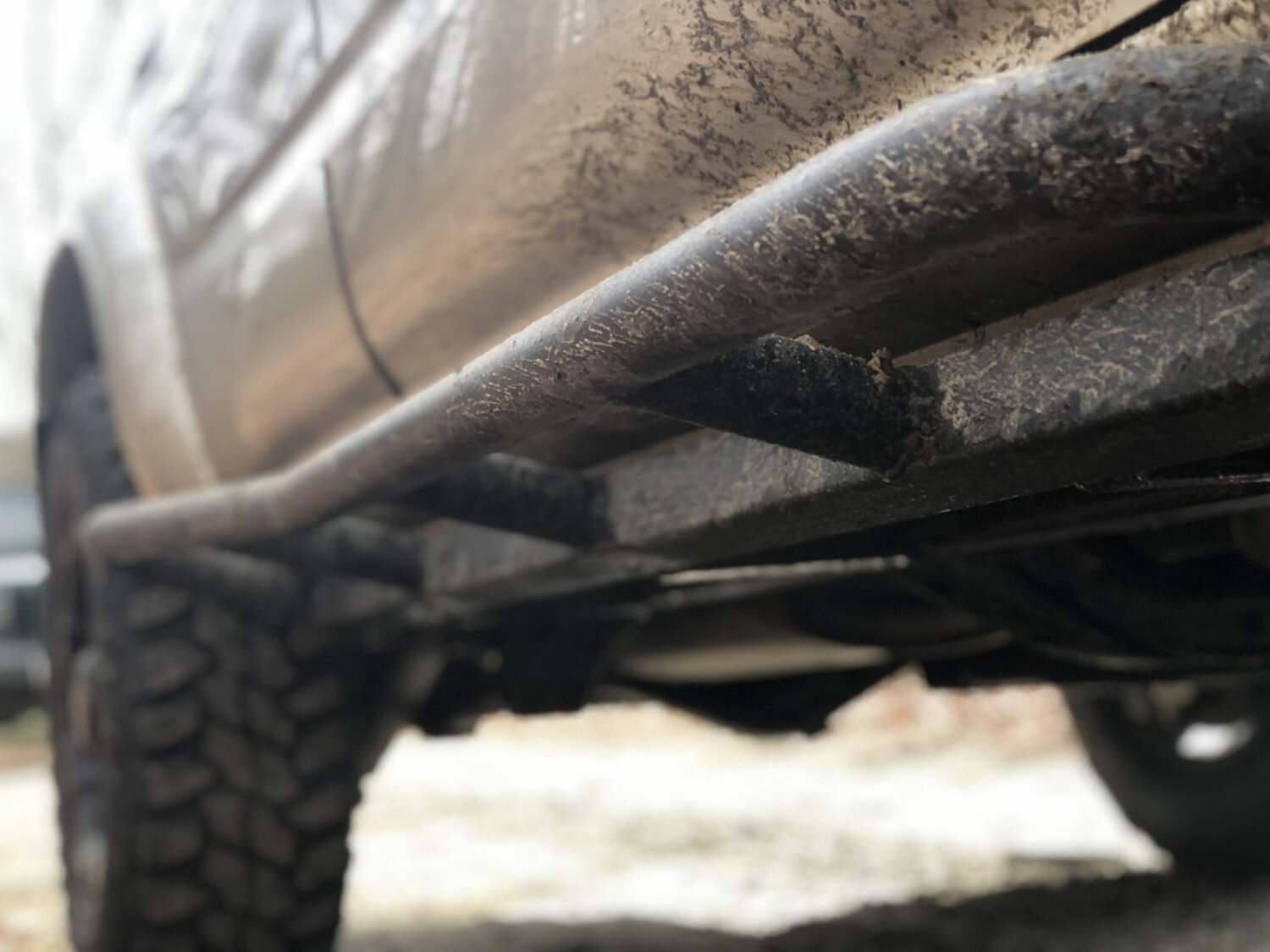 Rock Sliders offer that extra protection when tackling rugged terrain. They are popular on vehicles such as 3rd gen 4Runners and Tacoma's, as they help in many ways whilst offering the rugged look when the going gets tough. If you are planning on trails and adventures that involve rocky terrains, then Rock Sliders are an essential. 
What are Rock Sliders?
Rock Sliders are designed to work as a barrier against rocker panels and rocks when travelling off-road. They are typically welded or bolted onto the side of your vehicle for ultimate strength. Constructed from either Hot Rolled Electric Resistance Weld (HREW)
Drawn Over Mandrel (DOM) high grade steel tubing and are fitted directly to the chassis, protecting the sides and underbelly. 
How Rock Sliders Work?
They act as armor against rocks and debris that would otherwise hit the underside of a vehicle. Typically, they are custom built for the type of vehicle you have. For example our 96-02 3rd gen 4runner rock sliders have bespoke dimensions that fit to your Toyota. Shops will install the Rock Slider directly to the chassis, making sure it is correctly mounted to ensure maximum protection.
Why do I Need a Rock Slider?
Vehicles are prone to rolling in steep trails. If you are tackling rocky terrain, then Rock Sliders are ideal. They offer many advantages and not just protection from rocks:
Defend against foreign objects – Rocks and boulders can get in the way, but smaller logs and stones can damage the chassis too. Rock Sliders protect the bodywork and chassis against both.
Use as kickers – Pivoting the vehicle above and away from the obstruction, some Rock Sliders kick out against boulders. Allowing better traction from your tires and getting you on your way quickly.
A useful Pivot point – Using Rock Sliders in these situations looks impressive, does the job well and protects your vehicle all at the same time. Especially on tighter angles and narrow turns.
Mounting points for recovery – When rolled over, Rock Sliders offer multiple attachment points. Where another vehicle can recover you onto your wheels and get you back on your trail in no time!
Add to The Off-roader look – Your vehicle is one of your prized possessions. Entering into car shows and events. Rock sliders, in addition to offroad bumpers add a tough look to your 3rd gen 4runner armor setup. Or whatever vehicle you're rocking!
Added Step – Ideal for taller vehicles, stepping in and out may be difficult. Rock Sliders can also allow enough room to shuffle down to the rear of the vehicle before stepping off, to avoid mud or deep puddles. Making exiting easier if you park in a wet area.
How are Rock Sliders Made?
Rock Sliders come in two grades of steel, DOM and HREW. They are commonly used as they are excellent in strength and durability. HREW is "Hot Rolled Electric Resistance Weld" and is used throughout the offroad space in a host of aftermarket parts such as high clearance bumpers. 
DOM is "Drawn Over Mandrel" and has higher strength over HREW.  The structure of the molecules in DOM are transformed when being worked through a cold die and a mandrel. 
The True North Rock Sliders come in two finishes. With a resistant satin black powder coat directly from the factory, or a raw steel construction for those that want to customize or leave an unfinished look for their 3rd gen 4runner.
Which is Better - Bolted or Welded?
Our True North Rock Sliders are an off the shelf solution that can be installed at home, typically in a few hours. They are welded sliders and are custom made for your vehicle. Being tailored to a solution that works for you, they have strengthened areas for extra rigidity. With welding directly onto the vehicle, they are not easily removable as bolted.
Bolt on sliders mean you need to accurately drill holes and install yourself. The best part of the bolt on sliders is they can be taken off when not in use and do not require a trained professional (i.e., a welder) to install. But they are not as robust as welded sliders, and if not mounted correctly, can fall off. With bolting, the pilot holes are so important to drill correctly too. As inaccurate mounting may not give you the optimum protection for your off-roader.
Why Rock Sliders are Important.
As an off-road enthusiast, rocky terrains are most likely to be on your adventure radar. On your next adventure, you're most likely going to encounter rocks, furrows, and boulders. Rock Sliders offer protection to your chassis and can get you out of trouble. Not only this, but they also make your vehicle last longer, without the need for expensive underbody repairs. 
In a situation where you are rolled over, they offer anchor points which could save your day when it really matters. The choice of welding or bolted solutions is down to you. As ready-made bolt on solutions can be found quite easily online and can be installed at home. But this does not offer the affordability of a welded option. 
Which is where our 4Runner & Tacoma rock sliders come in. As an affordable option and multiple finishes, True North Fabrications have the best constructed Rock Sliders and armor for your off-roader. Whether you're looking for 3rd gen 4runner bumpers, 4Runner & Tacoma skid plates, or 4Runner & Tacoma rock sliders, we have it all. 
Our experienced team construct every product with precision, right here in America. Resulting in a design that handles any trail, whilst looking the part and getting you to where you need to go. Browse our product store today to find your next off-road gear!
Our specialties are 4runners, Bronco's, Tacoma's, FJ Cruisers and GX470's. Contact us today if you have any questions on protecting your off-roader!
---